Home News & Events
Zayed Foundation felicitates new Minister of State for Food Security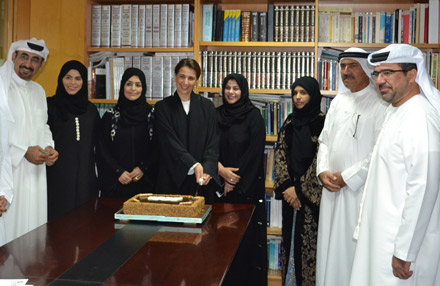 In the UAE Cabinet reshuffle announced in October 2017 by His Highness Sheikh Mohammed bin Rashid Al Maktoum, Vice President and Prime Minister of the UAE and Ruler of Dubai, Eng. Mariam Mohammed Saeed Hareb, a member of the Higher Committee of the Zayed International Foundation for the Environment, was appointed as Minister of State for Food Security. Making the announcement, HH Sheikh Mohammed pointed out that the new changes in the Cabinet "were about the science and technology of the future." Accordingly, Eng. Mariam Mohammed Saeed Hareb was given the new post of Minister of State with responsibility for research and planning for the UAE's food security.
Eng. Mariam Mohammed Saeed Hareb was previously the Assistant Under-Secretary of Environmental Affairs and Nature Conservation in the Ministry of Climate Change and Environment. As part of her key duties, she developed the Ministry's general strategic plans for the natural resources and nature conservation sector.
Felicitation
To felicitate Eng. Mariam Hareb on her new role, members of the Higher Committee of the Zayed Foundation met recently under the Chairmanship of Prof. Dr. Mohamed Ahmed bin Fahad to offer their congratulations and felicitations to the new minister. The Higher Committee meeting was held in the presence of the Deputy Chairman, Mr.Ahmed Mohamed Rafie; Dr. Ghaith Al Suwaidi,; Dr. Meshgan Al Awar, Secretary General of the Zayed International Prize for the Environment; Eng. Hamdan Khalifa Al Shaer, Secretary General of the Emirates Appreciation Award for the Environment; Dr. Saleh Al Hamrani; Eng. Alia Abdulrahim Al Harmoodi; Eng. Aseela Al Mualla; and the Chief Technical Advisor, Dr. Eisa Abdellatif.
Offering his sincere greetings and congratulations to Her Excellency Mariam Hareb, Dr. BinFahad pointed out that the Zayed Foundation was proud to have among its members a minister in the new ministerial cabinet of the UAE, which was formed as part of the federal government's efforts to meet the requirements of the next stage of development and growth of the nation.